How to use Google Analytics to see who's been visiting my site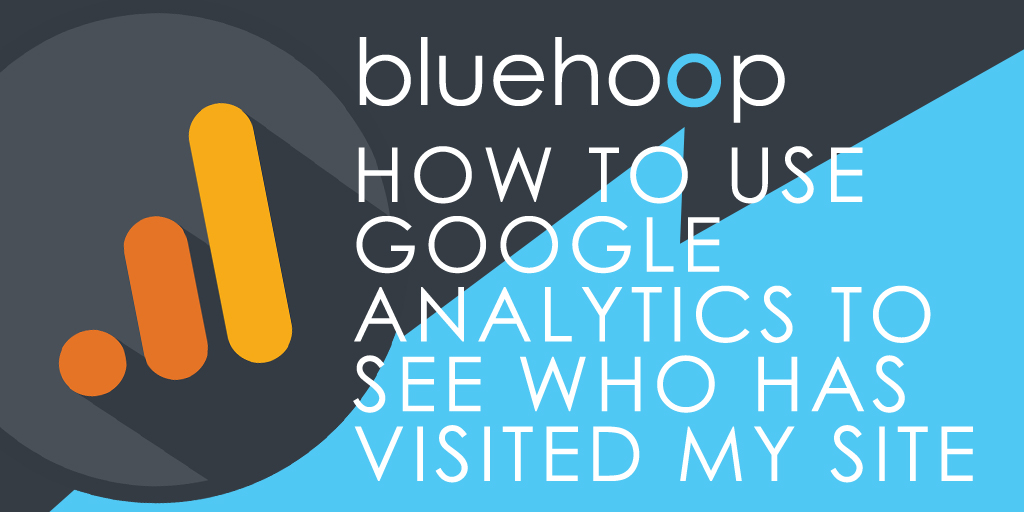 Finding out which businesses that have been visiting your website can provide valuable marketing and sales information.
For businesses who have a dedicated sales office, Bluehoop Digital often configure well known lead generation tools, such as Lead Forensics, to enable our clients to proactively follow-up potential sales.
There's also a free method to see who has visited your website which uses Google Analytics data.
How can I use Google Analytics to tell who's visited my website?
Each time someone visits your website the Google Analytics Network report saves information about their network service provider in its data log. This information can then be used to show who has visited your website by identifying the visitor's company name.
Many businesses utilise something called a 'network alias' which actually shows their company name instead of their telecom service provider. It is this information (and a little bit of detective work) which can help you identify the most likely person at that company ( therefore a potential business lead) who has visited your website.
How to open the Google Analytics Network Report:
Login to your Google Analytics Account
Select Audience > Technology > Network
Select your date range (a week tends to provide adequate data for further investigation) and change the show rows range to the maximum of 5000 (we like to see everything on screen).
How to find out the name of the business who visited my website:
Once you've run the report you'll probably see lots of service provider names (telecom and ISP companies) that aren't much use to you. These are the service provider names such as "sky broadband", "virgin media", "ee limited", "bt broadband" and pretty much everything with "internet", "telecom", "adsl", "broadband" and "cable" in the name
How to filter out telecom service providers:
You can easily remove many of these telecoms providers by applying a quick filter:
Click on the "advanced" link (next to the search box) and then set the following filter: Exclude / Service Provider / Containing / then add the following:
sky|virgin|bt|internet|telecom|adsl|ee|02|carphone|facebook|pipex|orange|dsl|broadband|t-mobile|tiscali|vodafone|talktalk|plusnet|microsoft|hubspot|wifi|wireless|chinanet|entanet|comcast|ip pools|digitalocean|daisy communications|google|hosting|subnet|pools|inc.|single static ip|inc |telefonica|isp
(this is the filter we use – you might want to adapt it for your own needs)
Hit the "Apply" button.
The filtered list you are left with will probably still contain a handful of telecoms service providers, however with a bit of common sense, you should be able to work out which of the service provider names have company name labels and could be potential customers who've been looking at your website. These are the ones that are worth investigating a little further…
How to apply more filters and fine tune your website visitor report:
Sort your data by Goals:
Many business websites receive hundreds of visitors each day and few people have the time to go through a long list of business names. If you need to refine your list further, and you have some Goals set-up on your website, you can do a quick sort by Conversions.
Filter your data by landing page or number of pages visited
Add a Secondary dimension such as including or excluding specific visitor Landing pages.
Sort by Pages/Session and you'll find out the businesses that visited several of your website pages – and in doing so showed a higher level of interest in your business, your products or services.
Once you've got things set-up to your requirements save the report for regular use. Or use the Share link to set-up a daily email notification containing the report and send it to your sales team.
How to find the name of the person who visited my website:
So you've applied your filters and drilled-down to a manageable list of business names. Whilst some network provider names will remain on your list, there should also be a handful of business names relating to potential customers. The next step is to use your common sense to look at the list and decide which are high value companies worth further investigation.
To develop a short list, do a quick Google search of the remaining service provider names to see if they look like the sort of business that might buy your products or services. Also take a look to see if they have viewed a specific website landing page, or whether they have looked at several web pages – these are the businesses who have clearly shown an interest in your website and are therefore worth follow-up.
Use LinkedIn to find the person most likely to have visited your website:
From your short list – it's time to fire-up LinkedIn. Search LinkedIn for the business and take a look at their employees. Look for their head of sales, director of marketing, or maybe the sometimes the managing director or business owner.
The next step is to make contact – either by connecting via LinkedIn or sending a personal introduction email or a phone call.